How to Make Your Shopify Store Not Live
Or how to pause your Shopify store for a vacation
Hello there, Shopify enthusiasts! Today, we're going to dive into a topic that's crucial for anyone who's preparing to launch their online store or wants to take their store offline temporarily.
We're talking about making your Shopify store not live or pausing and customizing the password protect page, often referred to as the "Coming Soon" or "Opening Soon" page.
This page is a powerful tool for pre-launch marketing, allowing you to build anticipation and collect email addresses even before your store officially opens. You can also use the page for vacations when you need that much needed break.
Using the password protection page you can let your customers know what's going on and when you'll be back to fulfil orders. So, let's get started!
Making Your Shopify Store Not Live
When you're setting up your store or making major changes, you might not want the public to see your work in progress. That's where Shopify's password protection comes in.
Here's how to add the password protection page
From your Shopify admin, go to Online Store > Preferences.
Scroll to the Password protection area, and check Restrict access to visitors with the password.
Enter the password that you'll give to the customers who you want to be able to access your online store. Remember, don't use the same password that you use to log into your admin.
When you're ready to go live, removing the password is just as easy:
From your Shopify admin, go to Online Store > Preferences.
Go to the Password protection section.
Uncheck Restrict access to visitors with the password.
Voila! Your store is now open to the public. For more detailed instructions, check out Shopify's help page.
Customizing the Password Protect Page
Now, let's make that password page work for you. This is your chance to create a buzz about your upcoming launch and get potential customers excited.
One key feature is the ability to add a custom message for your visitors. This is where you can inform them about your upcoming launch, offer a sneak peek of your products, or even start collecting email addresses for your newsletter.
Here's how to customize the shopify password page:
Before you start editing the actual page you should prepare any assets in advance such as product images, banners and other materials you may need.
canva is a great tool for quickly creating custom banners, see the choices or pre-made banners in the image below.
How to customize the password / coming soon page.
From your Shopify admin, go to Online Store > Themes.
Find the theme that you want to edit, and then click Customize.
As shown in the image below:
1. Open the drop-down menu at the top of the page and select Others > 2. Password then you can 3. add the content required.
From here, you can edit the sections on the password page, such as the header, content, and footer. You can also customize your theme settings, such as typography, color, social and favicon settings.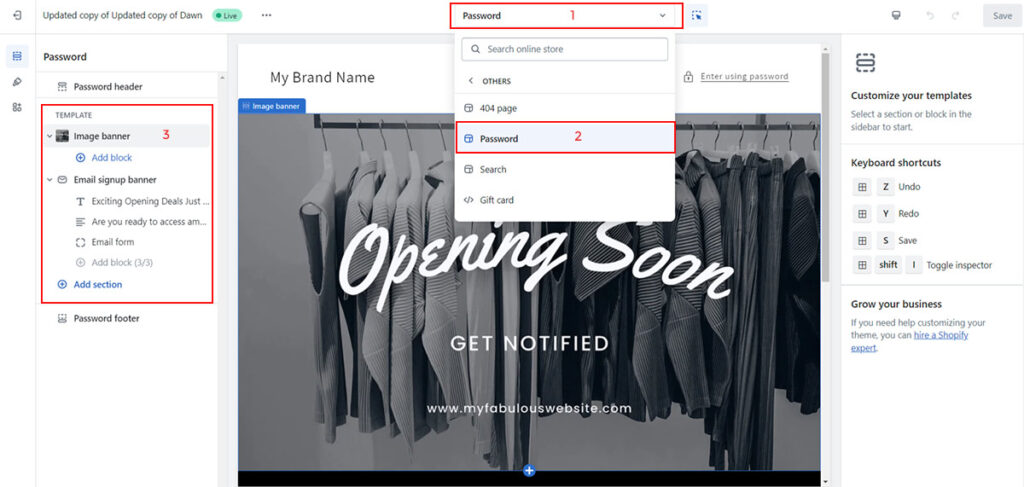 The coming soon / password page live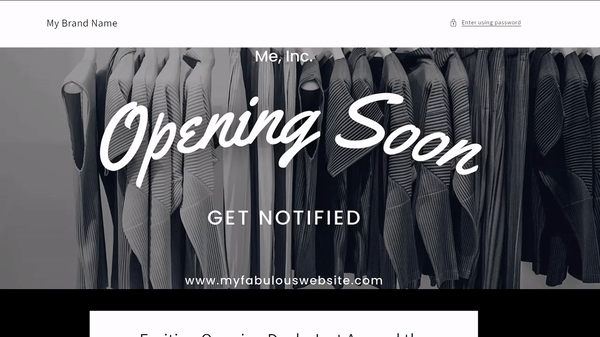 Conclusion
Making your Shopify store not live or pausing the store for vacations and customizing the password protect page is a straightforward process, but it's one that can have a big impact on your store's success. By creating a compelling "Coming Soon" page, you can start building excitement and growing your customer base even before you officially open for business.
Remember, the goal is to create a page that reflects your brand and gets your audience excited about what's to come. So, take some time to think about what message you want to convey and how you can best present it to your visitors.

For a visual guide on how to customize your password page, check out this helpful video tutorial from the Shopify Help Center.